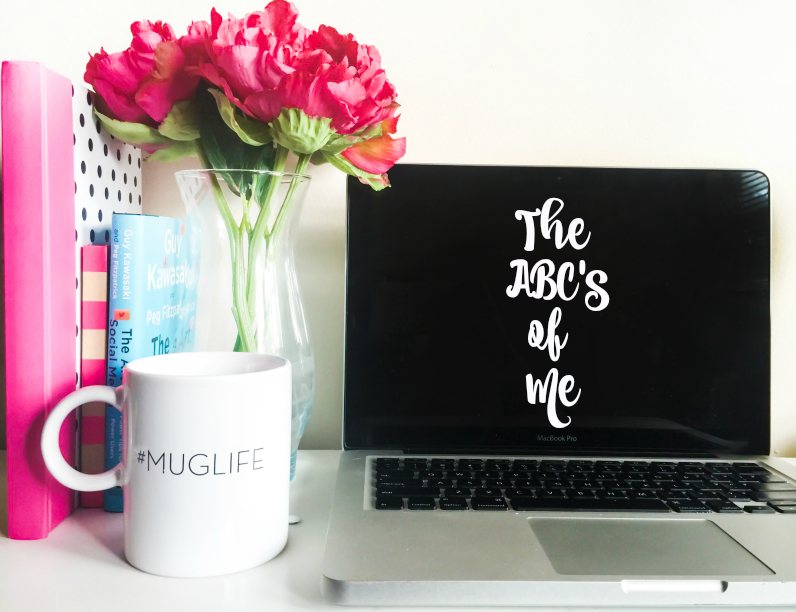 Happy  Tuesday Y'all! I have had a lot of traffic coming through the blog recently and decided to do a quick fun post and because I had a family emergency, which has prevented me for having some time to really blog right now. This post will help anyone that is new to the blog get to know me better and for those of you have been around for awhile, learn even more about me.
A: Attached or Single?  Attached and have been for over 6 years now. 
B: Best Friend (s)? Amanda, whom I've been best friends with for over 14 years now.
C: Cake or pie? Both. I don't eat a lot of sweets but I do love cookie cake, pecan and chocolate pies.
D: Day of choice? Friday because that means I am off for the next two days! Who doesn't love the weekends?
E: Essential item? Chapstick. I have to have it everywhere I go. I hate the idea of having chapped lips. Of course my iphone comes next in line.
F: Favorite color? I love all colors really. If I had to narrow it down to just one color it would be blue. I love all the different shades of blue. It is a color that looks good on me and brings out my blue eyes even more.
G: Gummy bears or worms? Both!!! I've loved gummy bears since I was a little girl and I love sour gummy worms!
H: Hometown? New Orleans, LA. Where the good times always roll.
I: Favorite indulgence? Sushi. I could seriously eat it everyday, if I could afford it.
J: January or July? July because that's typically when I go on vacation.
 K: Kids? None at this time. Not really sure if I want kids or not. I'll cross that bridge when I get there.
L: Life isn't complete without? My fur babies. Seriously I'm addicted to them.
M: Marriage date? Not married yet, so no date there.
N: Number of brothers/sisters? 2 sisters and 1 brother. I am the oldest.
 O: Oranges or Apples? I like both. I love eating my apples with peanut butter and the smell of oranges…amazing.
P: Phobias/Fears? Dying. Yes I know that's a crazy fear to have because everyone dies but I have panic attacks thinking about dying. I don't like the idea at all.
Q: Quotes? "Your imperfections make you beautiful and they make you who you are so just be who you are, love yourself for who you are and just keep going". Demi Lovato
R: Reasons to smile? Being alive and healthy. Spending time with my family, friends, boyfriend and fur babies.
T: Tag 5 People. Not going to tag anyone but if you do this post, let me know! I'd love to see your answers.
U: Unknown fact about me? I really don't have an unknown fact about me that I know of. I honestly can not think of anything for this.
V: Vegetable? I love all veggies. I do not think there is one that I dislike.
W: Worst habit? Always being on my phone. I have a tendency to shut out everything else because I am so caught up in my phone. Something I am working on.
X: Xray or Ultrasound? I've had both. So whatever is going to be needed.
Y: Your favorite food? Sushi and Crawfish. I can't just put one because those two are my favorites.
Z: Zodiac sign? Gemini. I will agree that I have two different sides to myself. I can be one of the sweetest people you have ever met but then I can be one of the meanest people you have ever met if you cross me the wrong way.
I hope you enjoyed this ABC post about me. I promise once things settle down with my family emergency, I will have a lot of great content coming out. I hope everyone has a great day!