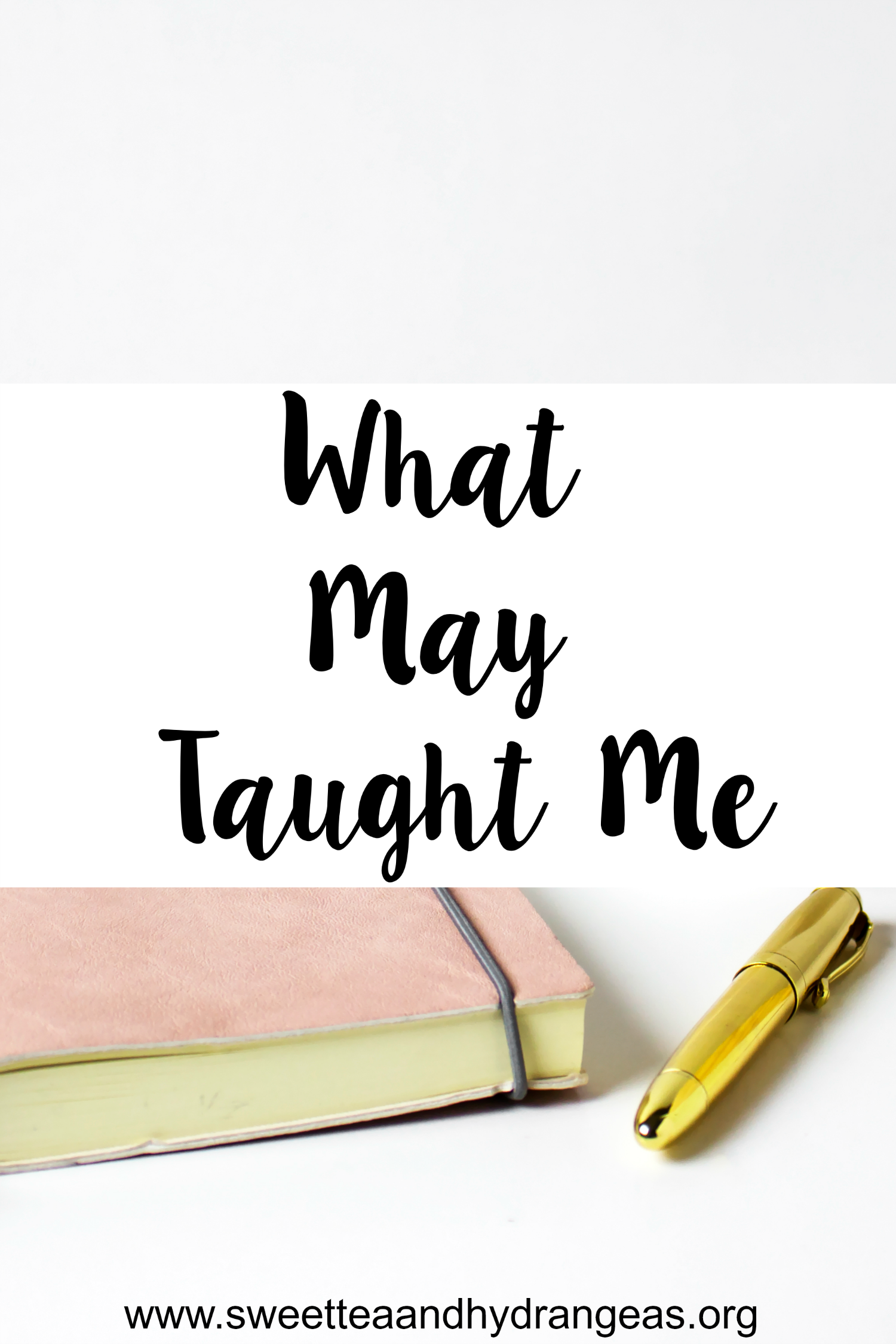 May seriously flew by way too quickly. I feel like I blinked my eyes and the month was gone. I saw this post idea on The Girl Who Loved To Write and thought it is such a great way to reflect on what I've learned each month. May was full of lessons for me, a lot of really good one's though. Here is what the month taught me.
Breaking Down Is Okay. For me breaking down makes me feel weak. I am not one to really show my emotions when I am sad/hurting. I've always been the type of person that keeps those emotions to myself (very few people have ever seen me breakdown, cry,etc). I'm the girl who stays tough even when my world is falling apart around me. It's always been hard for me to open up to anyone when I'm hurting. I guess that's because I have been raised to be tough and just don't want others to see that side of me. I was reminded a few months ago that just because I break down everyone once in awhile it doesn't make me a weak person. I am trying to keep that in mind. Now on to why I've had breakdowns….
With my grandfather passing away a little over six months ago, I've had a really hard dealing with his death. My grandfather and I were very close, so it's been extremely hard for me. A lot of times when I visit my grandparents house now I started crying as soon as I pull into their driveway. It's so hard for me to visit knowing that my grandfather is not there. We have left everything of his as it was before his passing. I know soon my aunt and I will be going through his things to donate or giveaway and that's such a hard pill for my to swallow. Getting rid of his items doesn't mean that he won't be remembered by any means it still sucks though. Certain things remind me of my grandfather or I will just randomly think of him and I break down. I know in time the grieving process will get better (or at least I hope so) but it's going to take some time.
It's Okay To Ask Others For Help. I will be straight up honest, I do not ask for help very often. I am the type of person who if something needs to get done I would rather do it myself. That is the slight perfectionist in me. My wedding is a little less than five months away and I've pretty much planned everything by myself (not that I do not have anyone to help me). This has slowly started to take a toll on me and I am just ready to be done with planning this wedding. Because I have been stressed out lately I finally decided to ask my fiancé for help when it came to getting things together for our Save The Dates. We have over 200 guests that we are inviting so him helping out was such a huge load off my shoulders. It was so nice to have him collect some of the addresses and get stamps for them.
Giving Someone A Second Chance Isn't Always A Bad Thing. Previously I was not to fond of one of my co-workers. This was because they were so lazy and never did anything to help out our team.  To me….that doesn't fly. You either come to work and do what you need to do or not come at all. Seeing that they were lazy it made me dislike them altogether. Our whole team had several conversations with our supervisor but in the corporate world you have to follow a disciplinary action plan. So you can't just up and fire people….sorry I think that's stupid but everyone these days will pull a law suit out like it's nothing. Thankfully this coworker has gotten their ish together and started pulling their own weight. Only took almost a year for that but I'm happy the situation has gotten better. I actually like them as a person now.
To Never Give Up On Your Dreams. Over a year ago I applied to grad school for the counseling program (I have a B.S. In Psychology). Once I applied I realized that I did not want to do counseling and withdrew altogether. Recently I began researching online programs for Forensics and found one that is in Louisiana (I'm from Louisiana). Of course this made me extremely excited because my minor is in Criminal Justice. I am completely addicted to any type of shows that deal with unsolved mysteries, etc. So this is going to be a process for me but I am excited. I am hoping to apply for the 2019 Spring Semester.
This was a long post but I hope everyone enjoyed it. It is a lot more personal than most of my posts.
What did May teach you?