So excited to be sharing my monthly beauty + accessory favorites from June today. I have a great mixture of different items that I can not get enough of lately.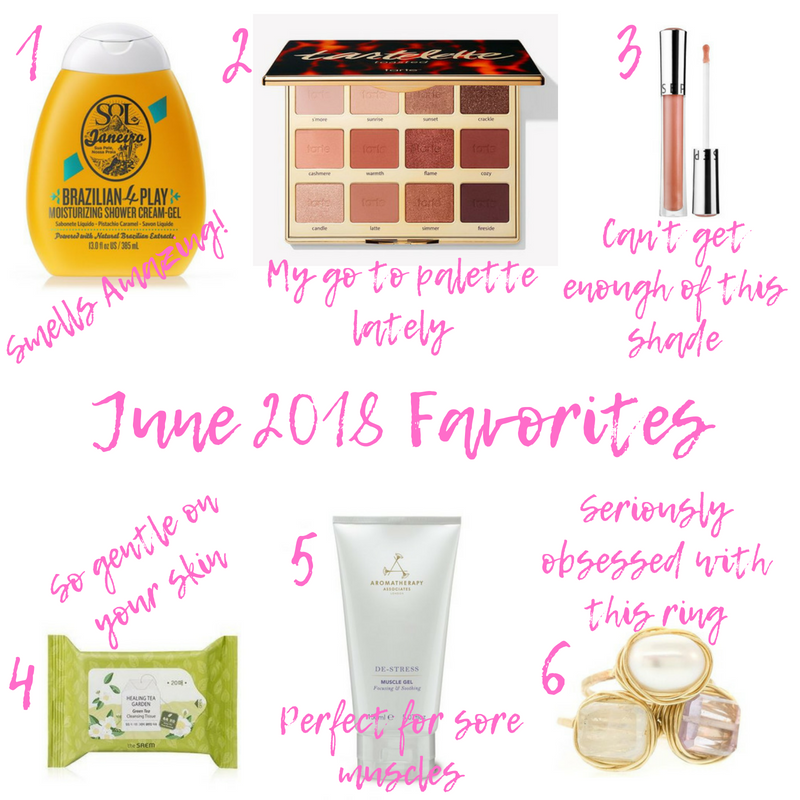 How is June gone already?! I honestly feel like the Summer has completely flown by in the blink of an eye. I will say that I am looking forward to Fall though! Today, I will be sharing some beauty products and an accessory that I have been reaching for constantly. Let's get to all these great products.
June Monthly Favorites
Sol de Janiero Shower Cream-Gel
Ya'll this stuff smells so freaking amazing! I fell in love with Sol de Janiero when I first purchased their bum bum cream. Once I was hooked on that product I knew I had to get my hands on some more. This shower gel smells exactly like the bum bum cream and is so smooth on the skin. It contains ingredients such as conditioning coconut oil, acai and cupuacu butter. Every time I use this I feel like I am on a tropical island. So worth the splurge!
This palette has been on repeat when it comes to creating looks rather I am running errands or having date night. This palette contains all warm shades which I typically tend to go towards. All of the shadows are extremely pigmented and blend out beautifully. It smells like chocolate which is also a plus. I use the shade flame all over my lid like it is going out of style. It makes me blue eyes pop. My favorite Tarte palette by far.
Sephora Ultra Shine Lip Gel in Perfect Nude
I received a sample of this lipgloss from my Play! by Sephora box last month and I was very impressed! It is not sticky which is a huge plus because I hate lip glosses like that. This lip gloss does contain small specs of glitter but it is nothing crazy that makes you look like you took a bath in it.
The SEAM Healing Garden Cleansing Wipes
I received these in my Mishibox awhile back and finally started using them. I love how gentle it is on my skin and how it removes my makeup easily. They also smell really good! Another great thing about these wipes are that they are formulated with the ever changing environmental factors in mind. They are extremely affordable as well.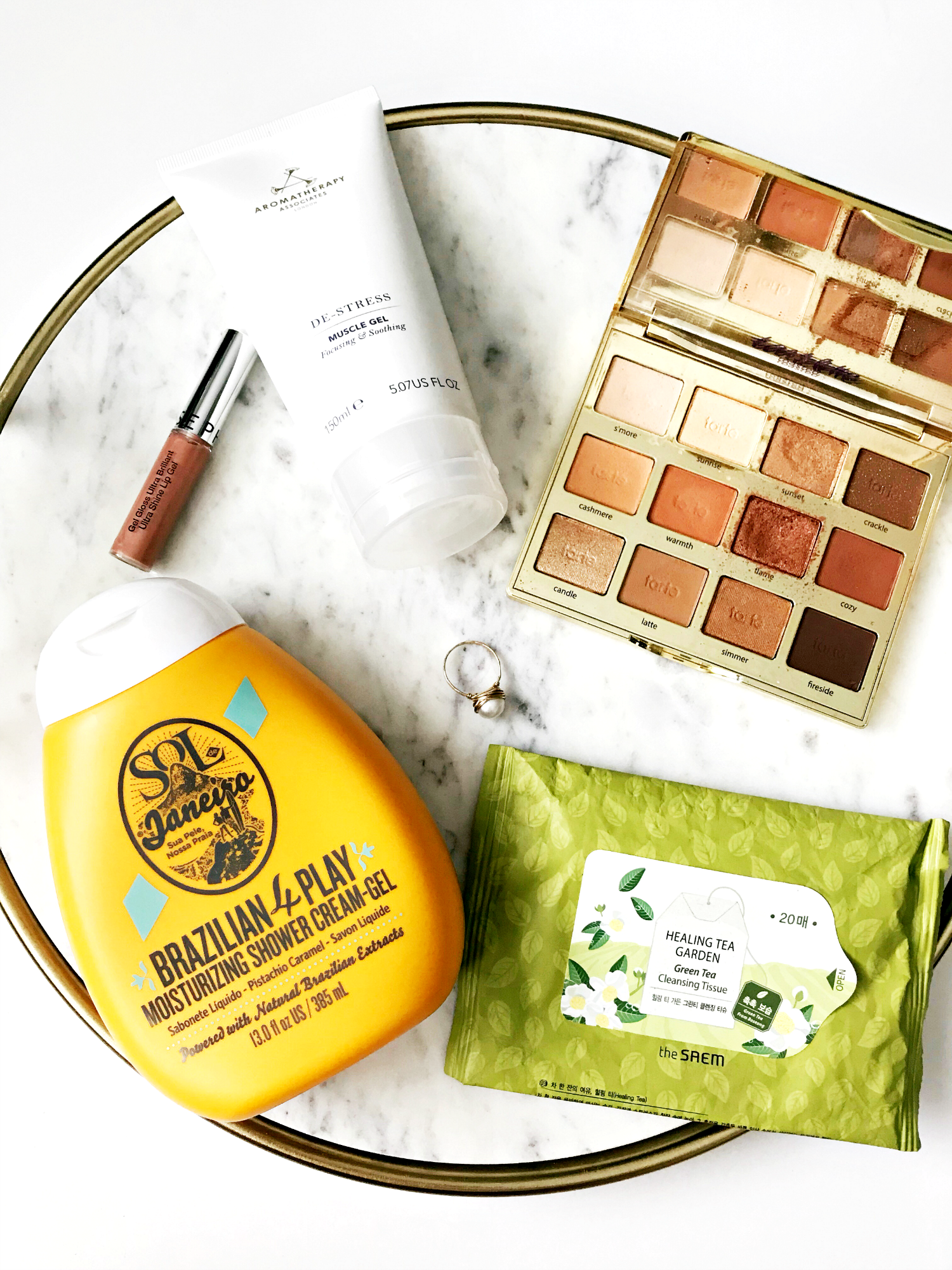 Aromatherapy Associates De-Stress Muscle Gel
One of my favorite products that I received in my FabFitFun box last month. This stuff comes in so handy!! If you're a huge lover of essential oil type of smells this has you covered. I tend to hold all of my stress in my shoulders which can cause a lot of pain for me at times. So when I am not able to get a massage to get that tension out, I use this gel to help reduce some of my pain. I also have been using this for when I am sore after my workouts. This stuff works serious wonders for sore muscles.
Judith Bright Petite Rock Nest Ring
While visiting Nashville for my bachelorette party we got to visit this shop. It was so adorable and bright. I had never personally heard of Judith Bright but the jewelry reminds of somewhat of Kendra Scott. All of the jewelry is handmade, which it was pretty awesome to see them creating the jewelry right in the shop. I decided to purchase this ring with a pearl stone and a gold band. I personally love almost anything with pearls because it's classy. They have several different options for what type of stone you want in your ring,etc. They have a lot of other really nice pieces as well (I purchased the matching bracelet to go with my ring).
I hope you enjoyed my monthly beauty + accessory favorites! Let me know what you have been loving lately in the comments.