Happy Wednesday Everyone!!! Hope y'all are having a great day so far! I want to thank all of you again for your love and support for Sweet Tea and Hydrangeas! I appreciate it so much! We have a lot of exciting things coming up in the near future! Now on the my Ipsy bag!
I'm sure a lot of you have seen people posting about receiving their Ipsy bags on facebook,instagram,etc and wondered what exactly is an Ipsy bag and how does it work?
Well I'm here to give you a little more insight! Ipsy was started by Michelle Phan who is a you tube beauty guru. She knew that the with so many different beauty options, finding the perfect products was not always easy. So she came up with Ipsy.  Every month, if you subscribe you will receive your Ipsy bag with either deluxe samples or full-sized beauty products. The cost is $10 per month and all you have to do is take a style quiz to see what type of products they will send you. You can cancel at anytime if you are not happy with what you are getting. At times there may be a wait list before you are able to get your bag but they are really good at getting people off of it.
So this was the Ipsy (Glam) bag for this month! I have to say this is probably one of my favorite bags I have received so far! It just screams Spring and florals are hot for the season.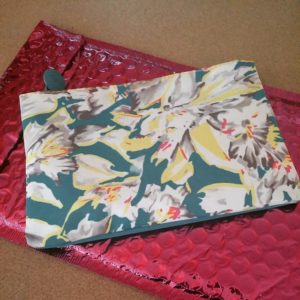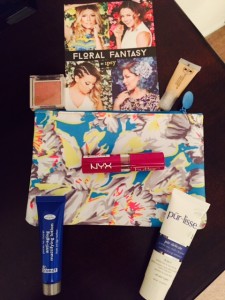 In my bag I received:
NYX Butter Lipstick in Hunk (0.16 oz-full size product). I have bought several NYX products before and I really do like what they have to offer. Their butter lipsticks are so creamy and they do not leave your lips feeling dry. For more of their products you can visit their website at nyx.com or find them at Ulta.
Pur~lisse Beauty delicate gentle soymilk cleanser and makeup remover (1oz deluxe sample). The cleanser is made with a sulfate free formula of soymilk, whole oat and white tea.Ipsy says that "This gentle cleanser leaves your face silky soft, without a trace of impurity. The 4-in-1 sulfate free & non-drying formula gently washes away dirt and makeup (even mascara!), while soothing and toning skin". I have never heard of this brand before but I'm excited to use the product to see how it works. I'll update everyone on it once I use it!
Boo-Boo Cover Up In Medium (0.13 oz deluxe sample). This is a concealer that is supposed to offer great coverage for any skin imperfections that you may have. Once again I have never heard of this brand but willing to try it. I'm pretty picky about any concealers that I use because some can crease or look cakey.
Dr. Brandt pores no more anti-aging mattifying lotion (0.26 oz deluxe sample). I have heard of this brand before and have some products I recently just got in a sample kit from Sephora to try out. This is a well-known brand for skin care and is really effective. Being that I am in my late 20's I feel that anything to help delay the aging process (that works) is fine with me! Let's keep the products coming! Lol. Here is a description of the product from Ipsy: "An apple a day keeps the lines away." This oil-free, lightweight lotion is formulated with apple stem cells to help delay the natural signs of aging by maintaining the longevity and activity of stem cells in the skin. Simultaneously, retinol stimulates new cell turnover and improves the appearance of fine lines and wrinkles. Dr. Brandt's multi-tasking formula provides the best of both worlds, delivering anti-aging and pore minimizing/mattifying benefits.
Vintage Illuminating Face Highlighter by Jessica Liebeskind (0.07 oz deluxe sample). I've never heard of this brand but the product is so pretty! I love a good highlighter! This is made to wear on top of your blush and gives the skin a natural glow.
All in all I am happy with my Ipsy bag this month. The products seem really good and i can't wait to try them all! Now don't get me wrong there are some months that I don't like some of the products I receive or the bag they get but who can really complain when it only cost $10? If you have a subscription to ipsy share what products you received in your bag with me!! I love to hear from our readers! If you do not have a subscription to Ipsy here is a link to see more what it's about: https://www.ipsy.com/r/1uay
Hope you enjoyed this post and I can't wait to share my other Ipsy bags with you in the months to come!