I always look forward to Fall tv. I love being able to watch shows that I am already addicted to but I also enjoy adding new shows to my list to watch. There are so many great shows on this Fall. I loved the format of Neely's post for her Fall shows, so I decided to use the same one. Here are the shows I am currently addicted to watching.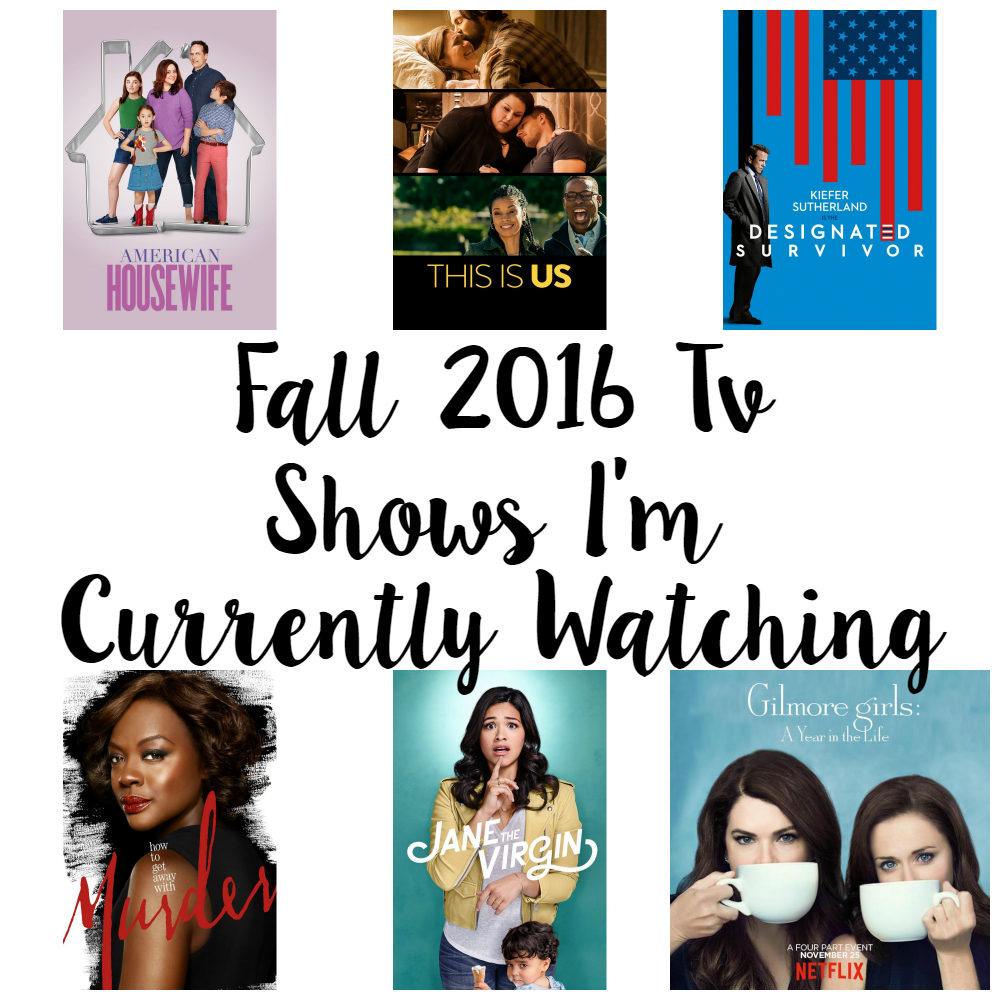 New Shows:
American Housewife: I absolutely love Katie. She is not your typical mom (like all the other moms on the show). She speaks her mind and knows that she and her family are far from perfect. She shares the not so great side of what it's like to be a busy mom with three kids. If I were to become a mom, I could see a little bit of Katie in me.
Designated Survivor: I've only watched one episode of this so far and it sucked me in. When an attack takes several lives of the current president and several other cabinet members, Tom Kirkman finds himself as the new president. I know there are going to be a lot of surprises in this show. I can't wait to see who is responsible for the attack. Another reason why I love this show is because Italia Ricci is in it. She previously played on Chasing Life.
This Is Us: One of my favorite Fall shows so far. It's such a beautiful show about family. It's raw and tugs at your heart strings. It tells the story of Rebecca, Jack and their three kids: Kevin, Kate & Randall.
Returning Shows:
Quantico: I became addicted to watching this show last season and the season finale threw me completely off. It keeps you guessing and you never know who just might be the bad guy.
How To Get Away With Murder: Shonda Rhimes does not disappoint that is for sure. This season is more crazy than ever. She always throws curve balls in every episode.
The Voice: I love being able to watch people sing and make their dreams come true. Of course I love Blake and Adams brotherly banter with each other as well.
Empire: The Lyon family is a crazy family to say the least. From their fights that put them against each other to them coming together as needed. I absolutely love Cookie Lyon. She is my spirit animal. If I could say everything that was on my mind (which I normally do) it would be similar to what Cookie has to say.
Jane The Virgin: I love seeing what is going to happen in Jane's love life. Will she choose Michael or Rafael? What crazy things will happen in her life while juggling love, school, family, etc.
Shows I want to watch:
Secrets and Lies: I have caught previews of this show and it looks really interesting. It has a really great cast. So I need to get caught up on it.
Gilmore Girls A Year In The Life: I was so addicted to watching Lorelai & Rory back in the day. So I can not wait to see what has happened in their lives since the show went off the air.
So as you can see, I am a tv addict. What shows are you currently watching this Fall?