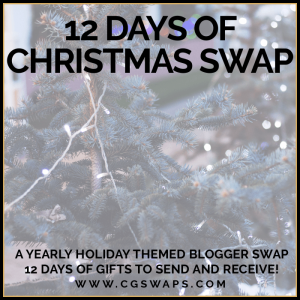 In November I had signed up for the CG 12 Days of Christmas Swap. I had  participated in one of the other swaps before (read here) and thought that it would be fun to do another one. For the swap you get paired with another swapper and get to know each other via email. Once you get to know each other, you get to pick out 12 gifts for one another. Which was a lot of fun! I love doing these swaps because I'm able to meet other bloggers, which is extremely exciting. Also, who doesn't like getting awesome gifts in the mail, as well?
I got paired with Olya and I learned we have a lot in common. If you haven't checked out her blog before, you should! I love seeing all of the beautiful places she travels too.
Now on to my gifts! I loved all the gifts she got for me.
An Apple Cinnamon Candle. I love the smell of this candle! It reminds me so much of fall.
Snowman socks. I love cute socks and these were extremely cute!!!
Nicka K Eye light crayon. I have never heard of this brand before, so when I saw this, I was extremely excited. I love makeup and trying new brands. I also love the fact that it's an olive green color. I've been looking to get my hands on one of these.
Pacifica Enlighten Eye Brightening Palette. Another brand I have never tried before. I love all of the colors in this palette and that it is infused with coconut. I can not wait to create some looks with this palette.
Sinful Colors nail polish in Eva So Bright. This shade is so pretty!! I love bright pink nail polish.
Absolute! Nail Polish Remover (lavender scent). Once again I have never tried this type of nail polish remover and the fact that it's lavender scent is even better!
Sally Hansen Toe Spacers. These things are amazing! I feel when I paint my toenails if I don't have these, they turn out a hot mess. Anyone else with me on this?
Julep nail polish in Abbie. Yellow is one of my favorite colors. So I can not wait to wear this polish once spring/summer rolls around.
Rimmel Stay Glossy 3D lip gloss. I love the shade of lip gloss she choose for me. It's such a pretty shimmery pink.
NYX Eyeliner in Silver Shimmer. Love, love, love NYX products!!! This is one that I do not own, so I can not wait to add it in to some of my makeup looks.
Revlon Colorstay Longwear nail enamel in Velvet Rope. This shade of red is so different from any other red nail polish that I have seen. Really excited to try it out!
Almar nail polish. I love that this nail polish is glittered in black and white. It is a lot of fun!
She also sent me an arrangement of different types of teas (because I love tea). Thank You again Olya for all of these amazing gifts!! I appreciate all the time you took to pick them out for me. I am also glad that I got to know you better!
For anyone looking for future CGSwaps check them out here. They have one to sign up for tomorrow! I will be singing up! Hope you will be joining us in this swap!