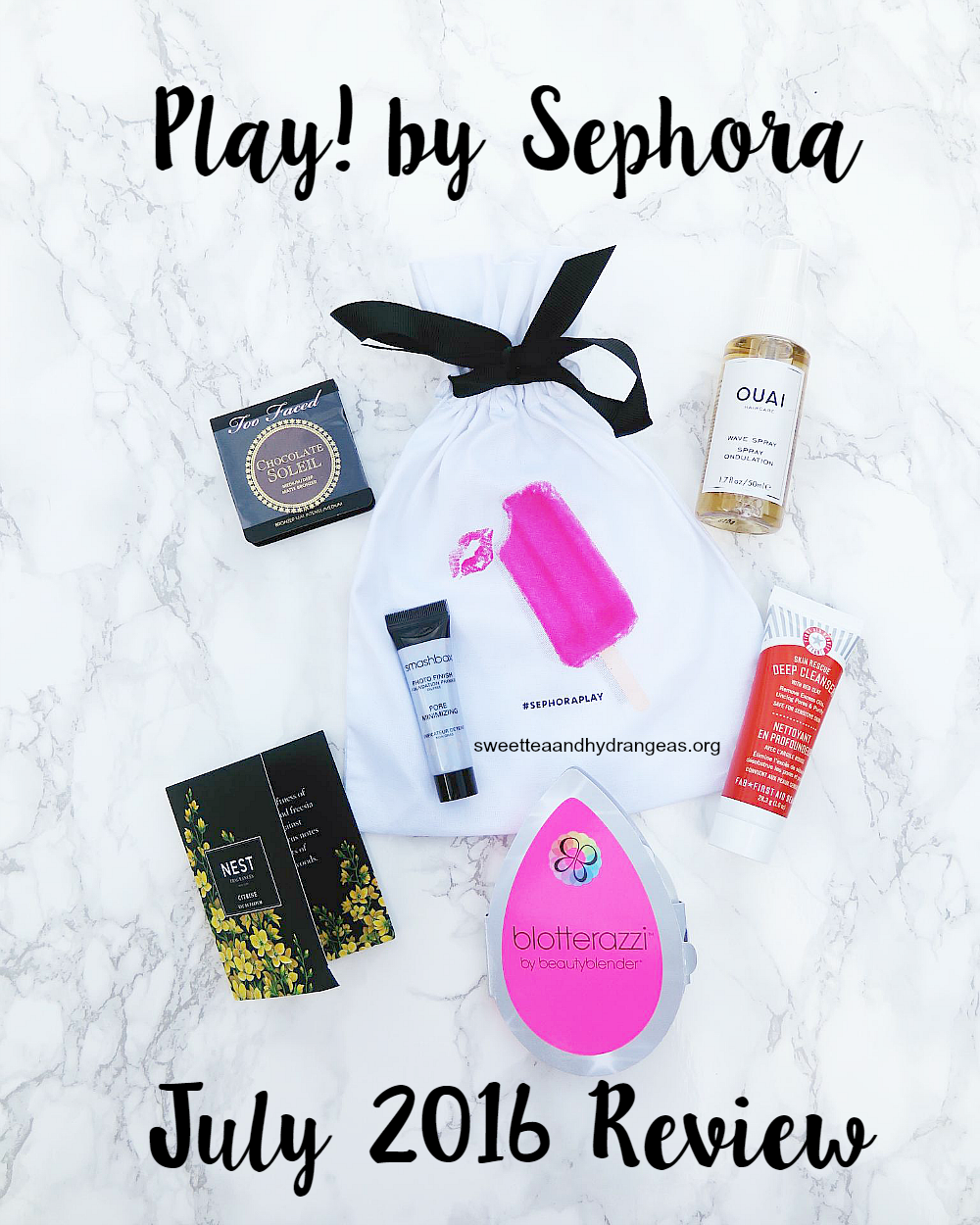 I am so excited to be sharing this review with you today. I have been on the wait list to get this subscription box for quite a while now. Seeing that this is the first one I have received, I must say I was very impressed with it. Now on to tell you a little bit about the box in more detail.
What is Play! by Sephora? It's a $10 a month beauty subscription service with five samples and one perfume sample each month. All of the brands are carried at Sephora. I love this because Sephora has a lot of high-end brands that I would love to try out; however, sometimes spending the money to try those products can be pricey. This is why this box is perfect (for me at least). I love that the box comes with a pamphlet that tell you all about the products and how to use them (see below). Another bonus that you get with the box is a Play! pass which lets you earn 50 extra Beauty Insider points with any purchase.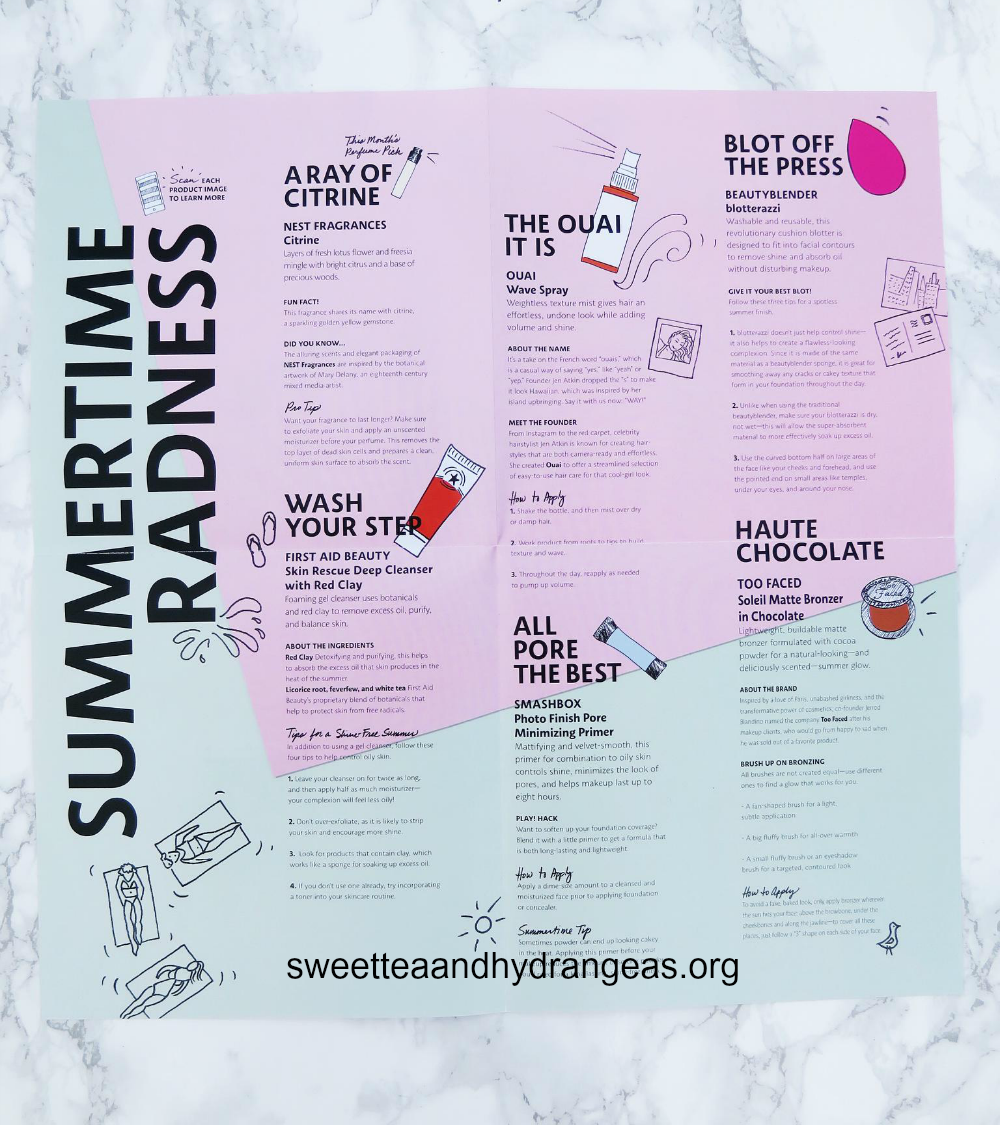 The theme for this months box was: Effortless Summer. I find that all these products are great for the summer time. The bag is also adorable.
Here's a recap of what I received in my box this month:
Too Faced Soleil Matte Bronzer in Chocolate (Full size $30// $6.86 value)// I am a huge fan of Too Faced products, so I was excited to receive this bronzer. I have used this one before and I loved it. It's very matte and gives you a natural glow without looking orange (which some bronzers can do). This bonzer is also great for using it as a contour. The best part about this bronzer is that it smells like chocolate. If you're looking for a new bronzer to try, I highly recommend this one.
Smashbox Photo Finish Pore Minimizing Primer  (Full size $39// Value $9.75)// I have never used this primer from Smashbox. I have used the original one and I really like it. This one is a mattifying oil free primer that is perfect for combination to oil skin. It helps control oil, minimize the look of pores, and helps make up last up to eight hours. Seeing that it is so hot here in TX, this prime will come in very handy because I get very oily in the summertime.
Beauty Blender Blotterazzi (Full Size $20// Value $10.36)// I use my beauty blender religiously every day when applying my make up, so when I received this product I was really excited. I had never heard of this product so this was a first for me. It helps remove shine and absorb oil without taking your make up off. Unlike the beauty blender, you use this product dry. Another great product for me to use because of my having oily skin in the summer.
Ouai Wave Spray (Full Size $26// Value $8.58)// When I looked at this brand I was like how do you pronounce this? Thank god they gave a little insight on how to pronounce it. It is pronounced Way which is a take from the French word "ouasis" which is a casual way of saying "yes" like "yeah" or yep".  It is a weightless texture mist that gives your hair that undone beachy wave look. It can be sprayed on your hair dry or wet. I will say that I am not a fan of the smell (at least smelling it in the bottle). I am still going to use it to see how it does with giving my fine straight hair some waves.
First Aid Beauty Skin Rescue Deep Cleanser with Red Clay (Full Size $24// Value $5.11)// This is a gel cleanser that uses botanicals and red clay to remove excess oil, purify and balance skin. I have heard a lot of great reviews on this brand. It is safe to use on sensitive skin, which is a plus because some skin care products irritate my skin. I also love that it is good for oily skin.
Nest Fragrances Citrine (Full Size $25-$68)// Value $1.60)// In each Play box they include a fragrance sample in it. This perfume is very fresh with a combination of citrus and floral scents. Not sure if I would wear it all the time but it is growing on me.
Total Box Value: $42.26 which is a great value even for sample sizes.
I hope you enjoyed my review! You can sign up here to join. I will say that there is still a slight wait list for this box. If you already subscribe to Play! how do you like it? What other subscription services do you subscribe to? I'd love to know in the comments below.