Disclaimer: This post is not sponsored. I did receive some of these products as PR gifts and fell in love with them. I only share products I truely believe in. All opinions are my own.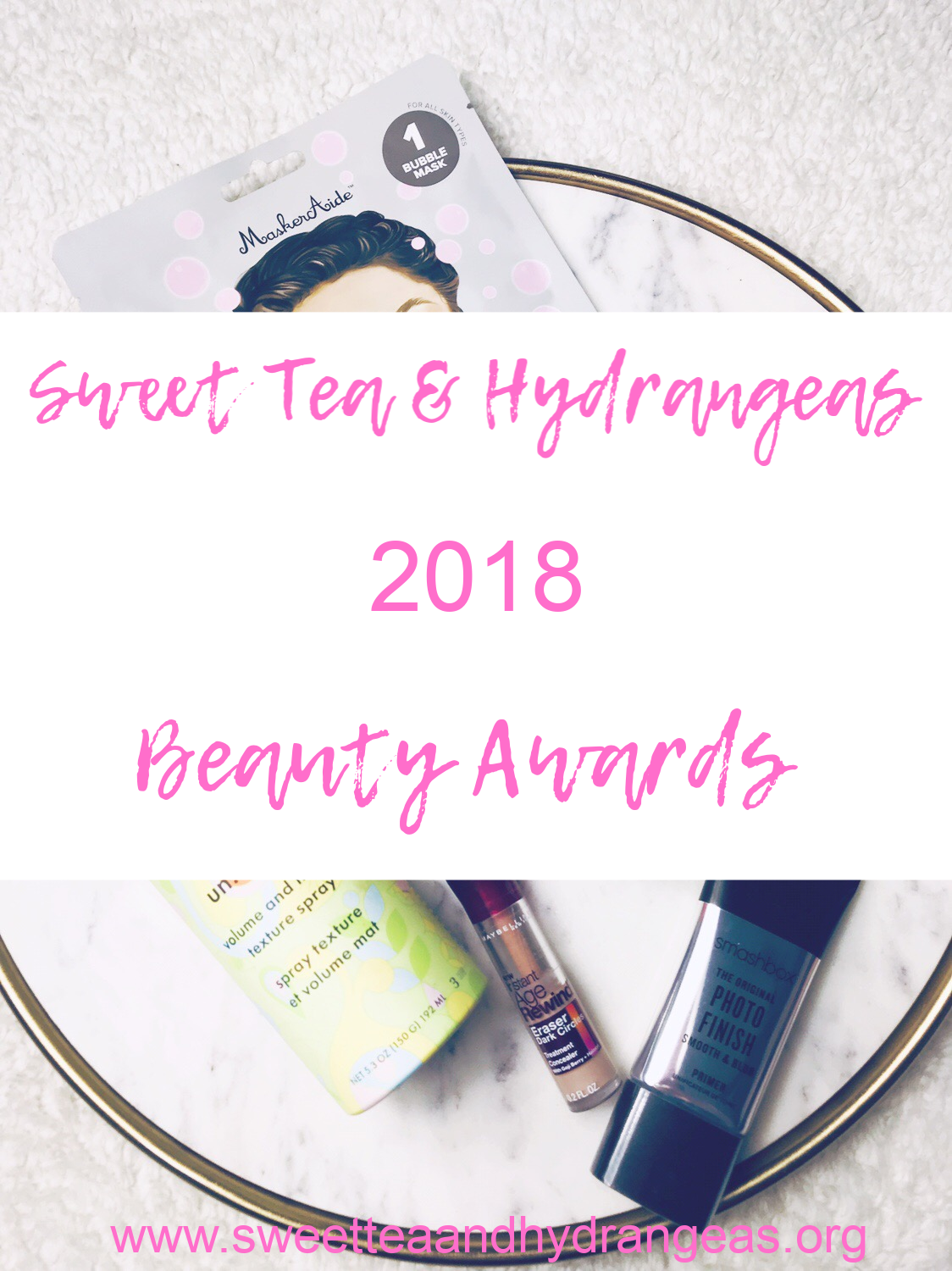 I honestly can not believe that 2018 has come and gone y'all. Today I will be sharing my favorite products of 2018- beauty, hair, and skin. One thing I love about being a beauty blogger is that I get to share my tried and true products with you all. I know it can be overwhelming to figure out what products to try out because you don't want to waste money and there are so many to choose from. When it comes to beauty products, I typically use more high-end brands but I decided to try out some drugstore products this year. These are the products that stood out in 2018.
Cosmetics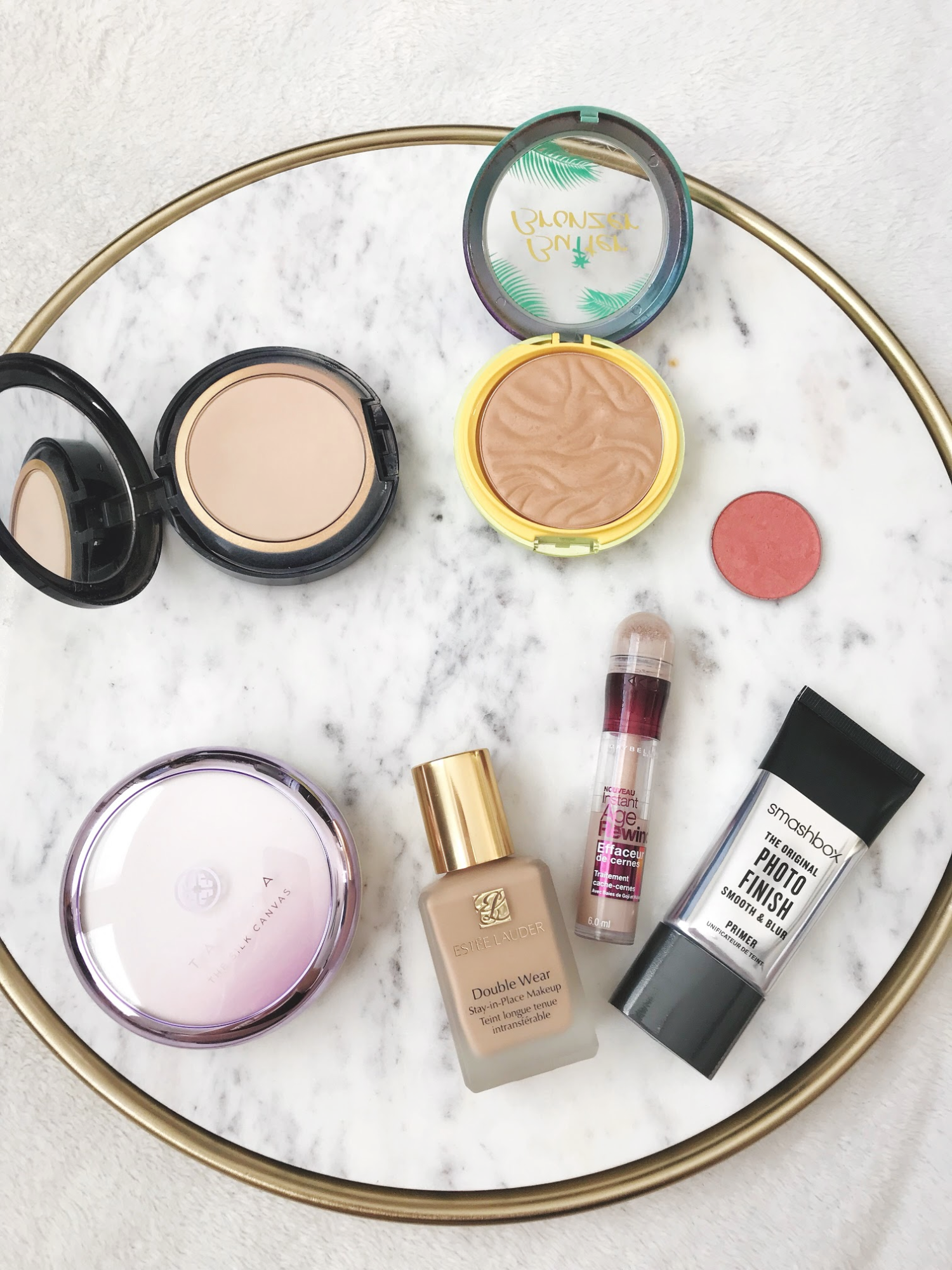 Estee Lauder Double Wear Stay in Place Makeup// When it comes to makeup that stays in place and doesn't move, this foundation has you covered! It is very matte and works great for normal to oily skin (at least in my opinion). I do not feel that it looks cakey or feels heavy on the skin.
Maybelline Instant Age Rewind Concealer// I had seen so many other beauty bloggers raving about how great this concealer was, so I decided to take the plunge and try it out. I was extremely impressed with this concealer right off the bat. It's very creamy, blends easily and does not crease. By far one of my favorite drugstore concealers.
Smashbox Photo Finish Primer// This has been a favorite of mine for years. It makes my face look extremely smooth and my pores much smaller. The formula is very smooth and my makeup glides on effortlessly when applied.
Estee Lauder Double Wear Stay in Place Powder// This of course goes hand in hand with the foundation. I personally like to set my foundation with a face powder.
Tatcha Silk Canvas Protective Primer// This primer is extremely pricey ($54) but after seeing a ton of reviews, I decided to purchase it during the VIB Sephora VIB sale. It is worth the splurge! This primer is so silky and creamy. You warm it up in your hands and then apply it which a little bit goes a long way. My foundation stays in place and looks extremely airbrushed.
Physicians Formula Butter Bronzer// Another recommendation from several other bloggers. I love a good bronzer that adds a natural glow to my skin without making it look muddy. This bronzer is extremely creamy and smell amazing!
Ofra Blush in Chameleon// I got this blush in one of my Ipsy bags and I was really impressed. I had just ran out of my MAC blush and this shade was very similar to the one I use. The formula is very pigmented so you only need a little bit!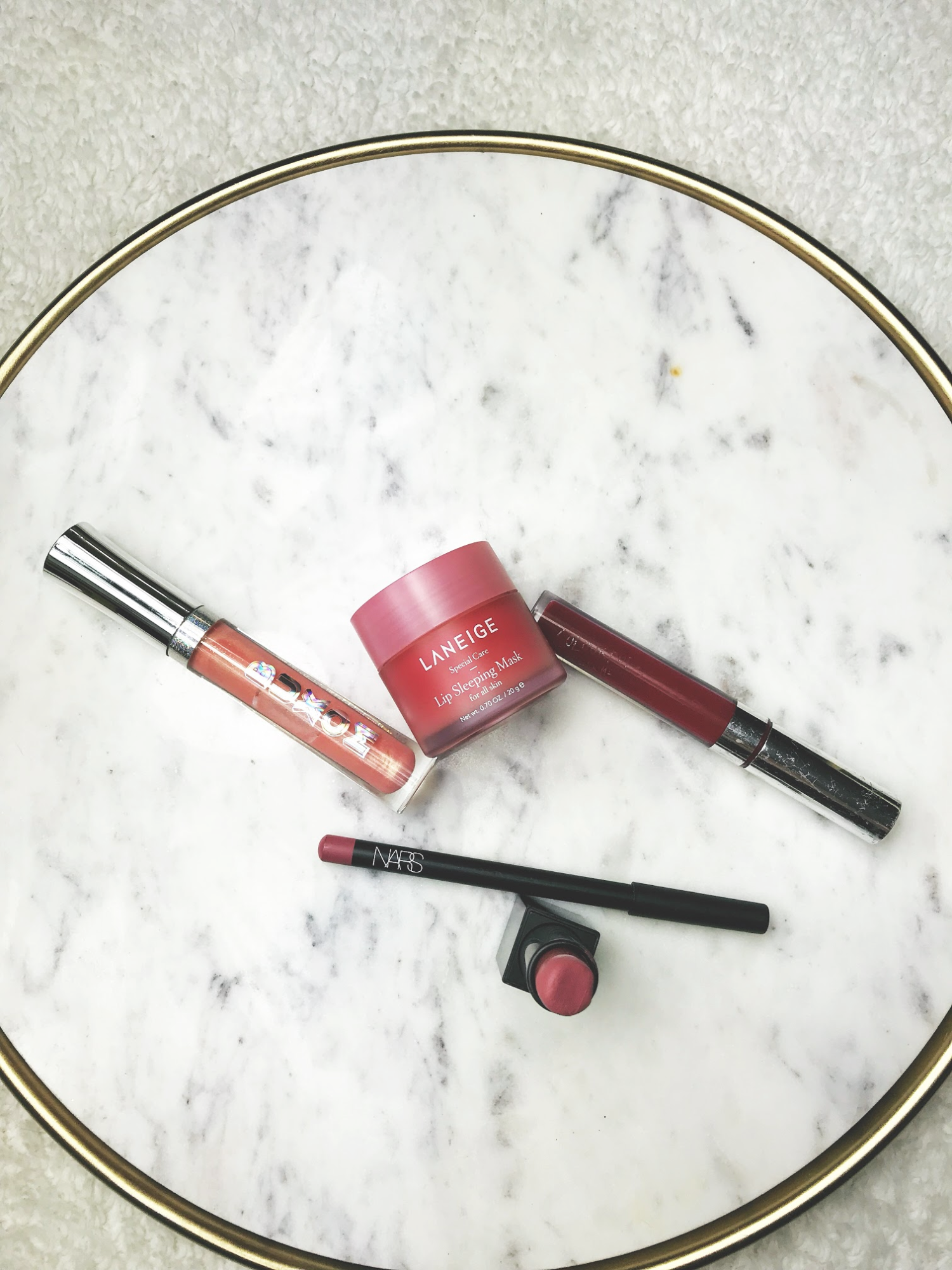 Buxom Plumping Lip Polish in Savannah// This is apart of my most worn lip duo this year (which I shared in this post). It's a peach shade and is very natural looking. It does contain some glitter but it is not overwhelming.
Nars Audacious Lipstick in Anna// I wear a lot of mauve shades and this one is no exception. The formula has a satin finish and is long lasting. It feels like nothing is on your lips.
Nars Precision Lip Liner in Cap-D'ail// This liner matches perfectly with the Anna lipstick. It is very pigmented and glides on smoothly.
Laneige Lip Sleeping Mask// By far one of the best lip masks!! I hate having dry cracked lips, so I always make sure my lips get a little extra TLC. If you wear a lot of liquid lipsticks this mask is a lifesaver! You apply a little bit before bed and wake up with your lips smooth and moisturized. I also love the smell of it.
ColourPop Liquid Lippie in Notion// So this shade is no longer available but it's amazing! It is a matte formula but is super comfortable. If you haven't tried Colourpop Lippie products you should. Great formula and very affordable!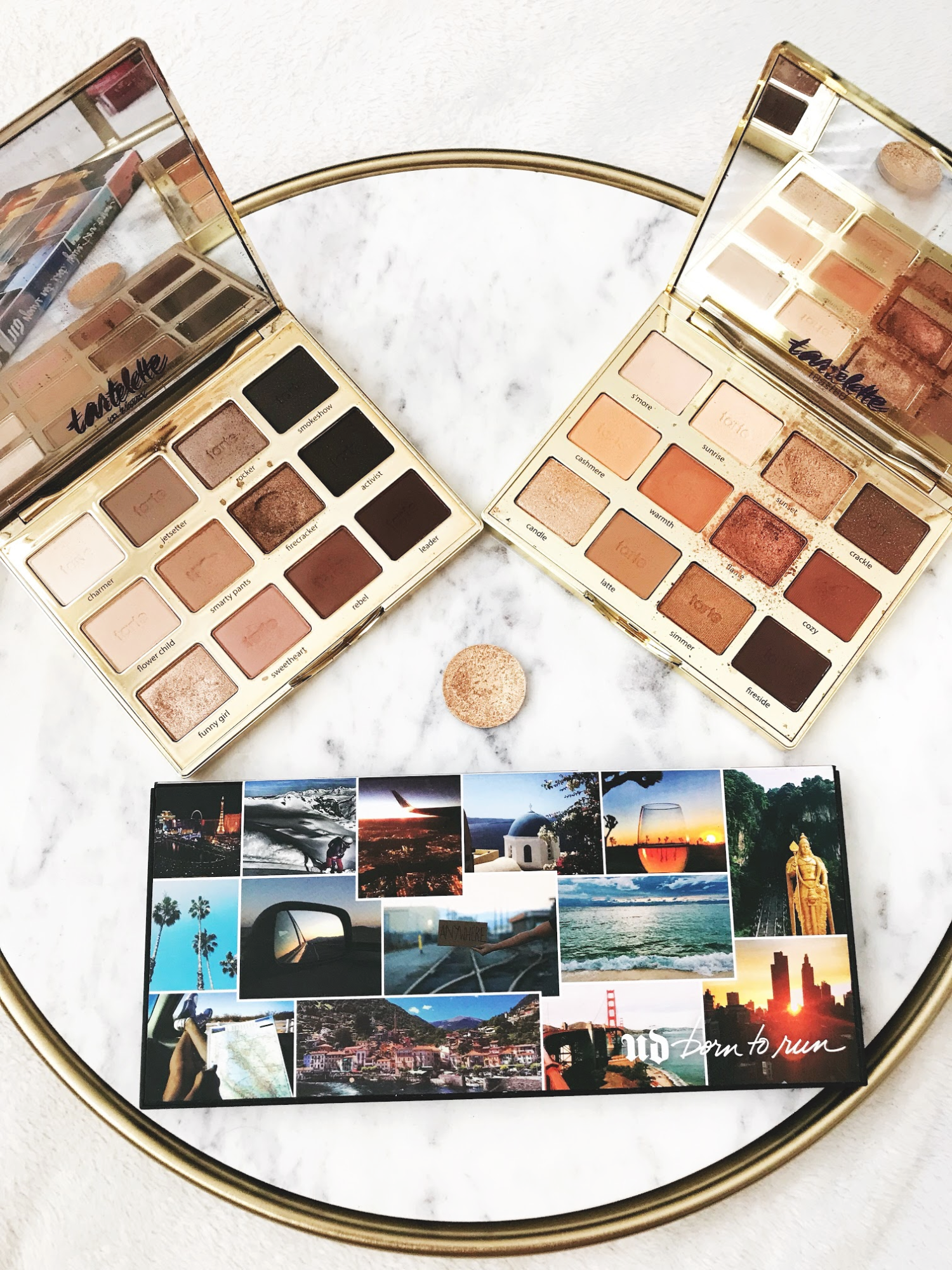 Tarte Tartelette Toasted Palette// One of my favorite palettes from Tarte. This palette is perfect for creating looks during the Fall; however, I use it year round. This palette contains seven matte and five shimmer shades. All of the shades blend out effortlessly and are very buttery. If you love warm shades this palette is for you!
Tarte Tartelette 2 In Bloom Clay Palette// You can see a pattern here when it comes to me loving Tarte palettes. I've had this palette for a few years now and never really reached for it until the last six months. I'm so happy that I did! This palette is much more neutral though it does contain some warm shades. The formula is the same as the Toasted Palette.
Urban Decay Born to Run Palette// I love how versatile this palette is. It has 21 shades with a good mixture of neutrals and colorful shadows. The shades are very pigmented and have a velvety texture. I love that the palette has a full sized mirror which makes it extremely handy if you're on the go.
MUG Magic Act Foiled Eyeshadow// I love putting this shadow on my lid with smarty pants in the crease and rebel on the outer corner (both from the Tartelette 2 in Bloom Clay Palette). The formula for this shadow is unreal y'all. I have never felt a more buttery formula for an eyeshadow.
Skin Care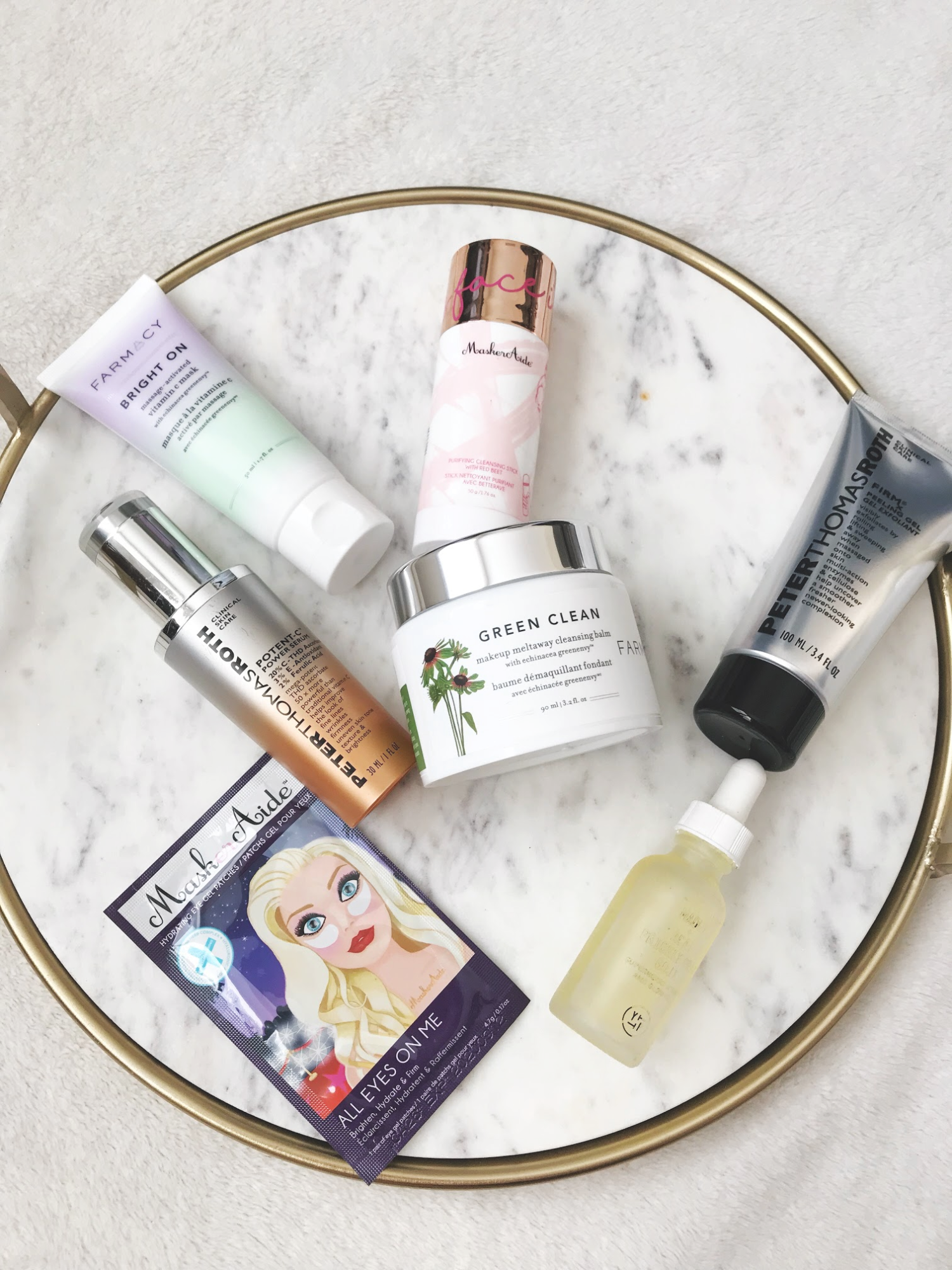 MaskerAide Let's Face It Purifying Cleansing Stick// This cleanser is amazing at removing dirt and makeup. I wear full coverage makeup and this cleanser wipes away all of it with no fuss.
Peter Thomas Roth FIRMx Peeling Gel// If you're looking for a great product that exfoliates your skin I highly recommend this gel! It gently takes away dead skin by massaging it into your skin. Its safe to use on sensitive skin!
Farmacy Bright On Vitamin C Mask// This mask is a lot of fun because when applied it is lavender and then turns green once dried. This mask does a great job at brightening and moisturizing the skin.
MaskerAide Hydrating Eye Gels// Let's face it sometimes when we wake up our under eyes are puffy AF. These gels do an amazing job at de-puffying, hydrating and brightening the under eyes. They are also extremely affordable! Check out some other of my favorite MaskerAide products here.
Peter Thomas Roth Potent-C Power Serum// When it comes to skincare I love products that are going to help brighten my complexion. I know as I've gotten older my skin is not as vibrate as it was when I was younger. This serum works wonders for brightening the skin and making it firmer.
Youth To The People Superberry Hydrate + Glow Oil// If your skin needs a little pick me up get you some of this!!! I have normal to oily skin and this does not make my skin look greasy. I put this on before I go to bed and wake up with my skin looking hydrated and glowing. I have also put a few drops in my foundation and used it as a primer. Seriously it's amazing!
Farmacy Green Clean Makeup Removing Cleaning Balm// Another great cleanser that melts away makeup. I'm talking about it even taking off waterproof mascara. It's extremely gentle on the skin and it smells like key lime pie.
MaskerAide Bubble Bubble Pop Mask// A fun yet effective charcoal mask! You put this mask on and within minutes it bubbles up. It's great at clearing out your pores!
Hair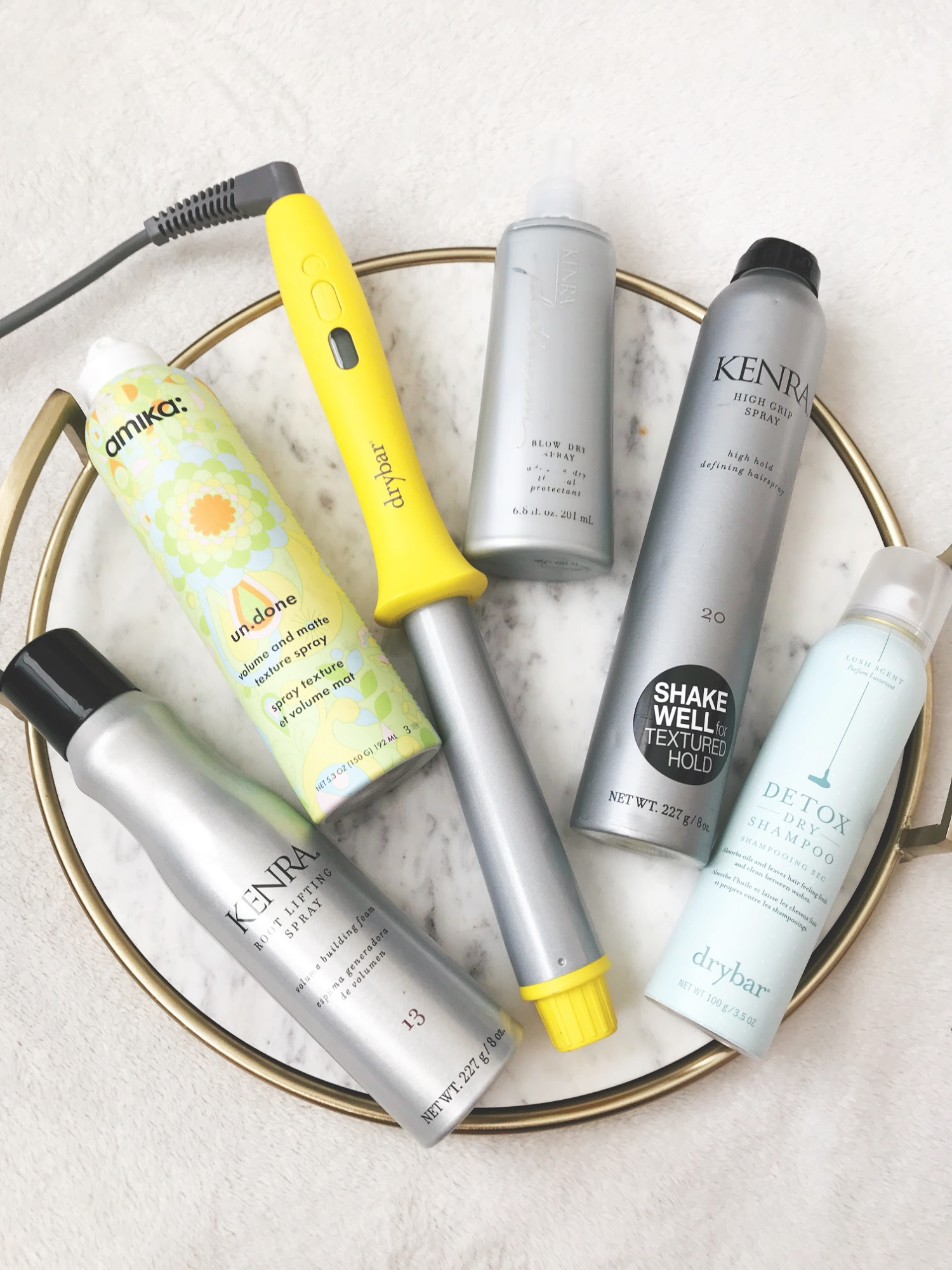 Amika Un-done Volume & Texture Spray// I have extremely fine hair which makes it a little difficult for my hair to curl. This spray is amazing with helping my hair hold curls without making it gritty.
Kenra Root Lifting Spray// I have had extensions for almost four months and as my hair has grown out I've needed a product to hide them a little better. I love Kenra products and this one did not disappoint. I spray this in my hair right before I blow dry it. It gives my hair just enough lift without going too overboard.
Dry Bar The Wrap Party Styling Wand// I find that my hair curls so well using this wand. It creates beachy waves and is super easy to use! I really love that the curls hold even after I've slept in them.
Dry Bar Detox Dry Shampoo// I never used dry shampoo until four months ago. I always washed my hair every day because I could not stand the thought of my hair looking greasy. That all changed once I got my extensions. I knew that I had to find a great dry shampoo so that I could keep my extensions looking fresh. I can not say enough about this dry shampoo! It takes all the oil out of my hair and helps add volume as well.
Kenra Blow Dry Mist// Protecting my hair from being damaged by heat is so important. This spray provides protection and also reduces the amount of time it takes to blow dry my hair.
Kenra High Grip Hair Spray// I have yet to find a hair spray that makes my curls stay in place while still being able to run my fingers through my hair. It does not make your hair feel gritty whatsoever.
There you have it! All of the best beauty products of 2018! I know this list was long but I hope you find some new products to try out soon.
What were some of your favorite beauty products from 2018?
I'd love to know in the comments below!