*Post contains affilate links. If you click on the links, it will be at no cost to you. If you choose to shop the sale though my links, THANK YOU. I greatly appreciate it. *
My favorite beauty sale is here again! Twice a year, Sephora does a shop fit out to redesign the store and offers discounts on all their products , which is the perfect time to stock up on some your favorites and try out some new ones. There are three tiers for the sale (VIB, Rouge and Insider) that determines the dicount you receive and when you're able to shop the sale.
If you're not already signed up you can go here, so you can use the 10% off discount to start earning points from your purchases. The best part about signing up is that it is FREE for everyone. Make sure to look at the dates so you know when you can start shopping.
Below I've included my everyday makeup products, my tried and true favorites + what's in my cart.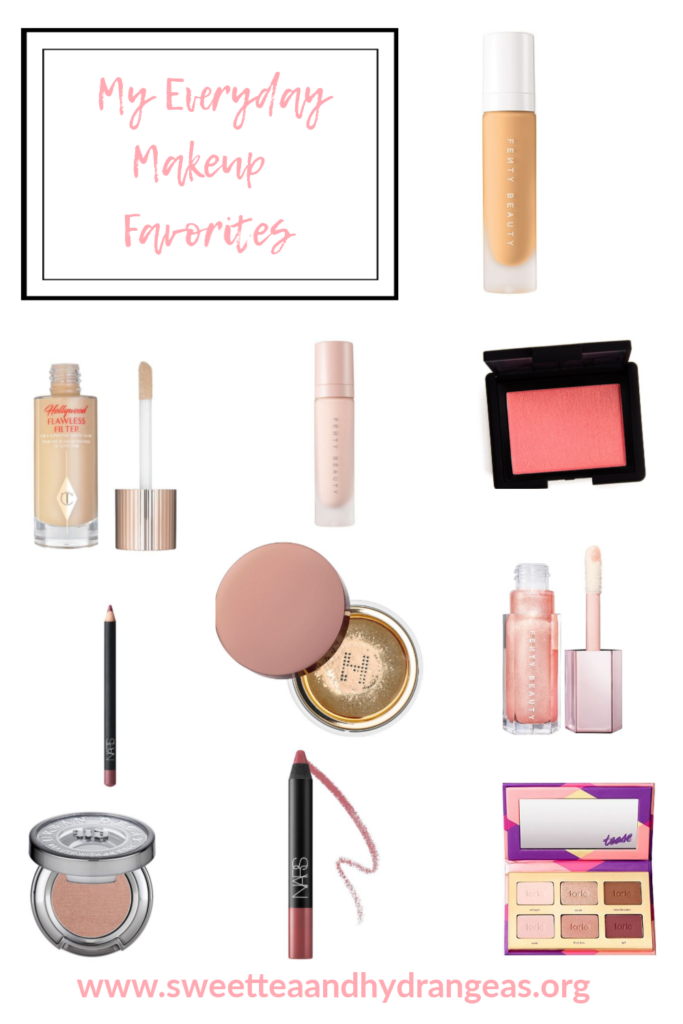 Fenty Pro Filt'r Instant Retouch Primer | This primer is so smooth and moisturizing going on the skin. I really like that my foundation goes on with no issues after I have applied it. This primer does give the skin a more smooth blurred look, which I really like.
Fenty Pro Filt'r Soft Matte Foundation (I wear shade 200) | I purchased this foundation last month and I love it! It is a soft matte which I really like because some matte foundations are a little too matte for me (even though I have oily skin). Though it is full coverage, I do not find that it is cakey at all. It gives a healty glow while still staying on throughout the day.
Charlotte Tilbury Hollywood Flawless Filter | This can actually be used several different ways: primer, highlighter or complexion booster. So I don't actually use this as a primer. On the days I feel my skin needs a little boost, I will mix it in with my foundation to give me a nice glow (a little bit goes a long way). It's really pretty as a highlighter as well!
Hourglass Veil Translucent Setting Powder | I will admit this is a pricey setting powder but I gave in because so many other bloggers raved about it. It is so weightless, it honestly doesn't look like you have any powder on at all. I find it gives my skin a really nice soft finish and doesn't settle into any fine lines.
NARS Orgasm Blush | If y'all know anything about NARS, this is one of their best selling blushes. I purchased this blush for the first time years ago and I can say, it's worth the hype. It's such a pretty peachy pink shade that is extremly pigmented (do not go heavy with your brush). It does have some shimmer to it (nothing that is crazy) but if you like all matte blushes, do not get this one.
Tartelette Tease Palette | Tarte eyeshadow palettes are some of my favorite. Like most of tarte's palette it is infused with amazonian clay that helps the shadows stay on longer and have better pigment. This palette is great for an everyday neutral look and perfect for travel. I use wink as my crease shade and heartbreaker in my inner v.
Urban Decay Half Baked Eyeshadow | I fell in love with this shade because of the orginal naked palette. It's a golden bronze shade that is so pretty and the pigment payoff is amazing. I use this as my lid shade in addition to wink and heartbreaker from the tease palette for my go to eye look. This single shadow lasts me at least a good 3-4 months because of it being so pigmented.
NARS Velvet Matte Lip Pencil in Sex Machine | This has been my go to shade for years now. The formula is so comfortable and long wearing. If you love wearing mauve lipsticks and this is right up your ally. I use this alone without adding any lipliner to it because it's a lip pencil.
NARS Audacious Lipstick in Anna | Again, another one of my go to's because it's a smoky rose mauve shade. The formula is super soft and doesn't feel like you have anything on them.
NARS Precision Lip Liner in Cap-D'ail | This liner goes hand in hand with Anna. It's super easy to apply and very pigmented.
Fenty Gloss Bomb in Fu$$y | Fenty has one of the best lip gloss formulas I've tried. These are high shine, pigmented and don't stick to your lips like most glosses. I wear this alone or on top of Sex Machine or Anna. It's the perfect pink gloss.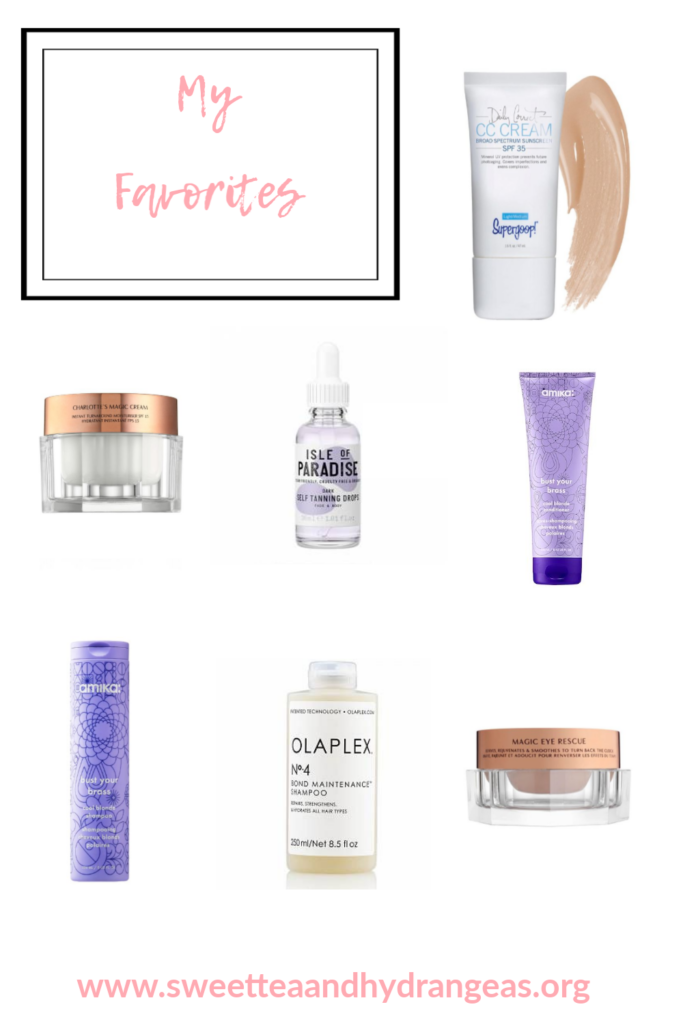 Isle of Paradise Self Tanning Drops | I know y'all have seen a ton of bloggers rave about these drops. I have been using these drops for well over a year now and y'all they are that darn good. They come in light, medium and dark (I use the dark) to fit your skin tone needs. They do not make you look orange because they have color correcting technologies to give you a natural looking tan. These drops I use primarily on my face by adding a few drops to my moisturizer at night. When I wake up in the morning I have a natrual bronzed glow. You can also use them by adding it with your favorite lotion and apply it all over your body (I typically use their Express Ultra Dark Mousse for my body). I also love these drops because when I get a spray tan my face usually fades quickier then the rest of my body and these help keep that tan going.
Charlotte Tilbury Magic Cream Moisturizer | Another splurge item that is well worth it. I have yet to find a moisturizer that is as good as this one (I've tried a ton). It contains hyaluronic acid, bionymph peptide and shea butter. Which helps the skin look plump, glowy and moisurized. I purchased the 1 oz jar back in June last year and it lasted me until November (a little goes a long ways). In addition to using this as a moisturizer, you can use it as a makeup primer. I found that it kept my makeup on really well when I used it as a primer.
Charlotte Tilbury Magic Eye Cream | I purchased this right before going to Germany last year and it made a world of difference with my dull jetlagged undereye area. I put it on before going to bed and woke up with my eyes looking so much more refreshed. It's extremely moisturizing and helps a ton with puffiness, dark circles and wrinkles.
Amika Bust Your Brass Shampoo & Conditioner | Seeing my hair is really blonde, I do anything to be able to not have it brassy. I love how well this combination keeps my hair bright blonde. I use it once a week because if you use it more than that, it can dry out your hair (this was something I learned from my stylist). So if you're looking for a great blonde shampoo, try this one out!
Olaplex No. 4 Bond Maintainence Shampoo | I've been coloring my hair for 20 years now, so of course it does cause some damage. This shampoo helps to repair your hairs bond and reduced breakage. I use this a few times a month to help my hair stay healthy. It makes my hair feel super soft and smooth.
SuperGoop CC Cream Daily Correct Broad Spectrum SPF 33 Sunscreen | I purchased this last Summer after hearing great reviews of the brand. There are a lot of days when my rosacea causes my cheeks to be very red, so I wasn't sure if I'd even like it. I was really surprised with how well it covered up my redness though it's lightweight. I applied it with my fingers and then I took my beauty blender to ensure it was completely blended out. It's extremely easy to apply and gives great coverage.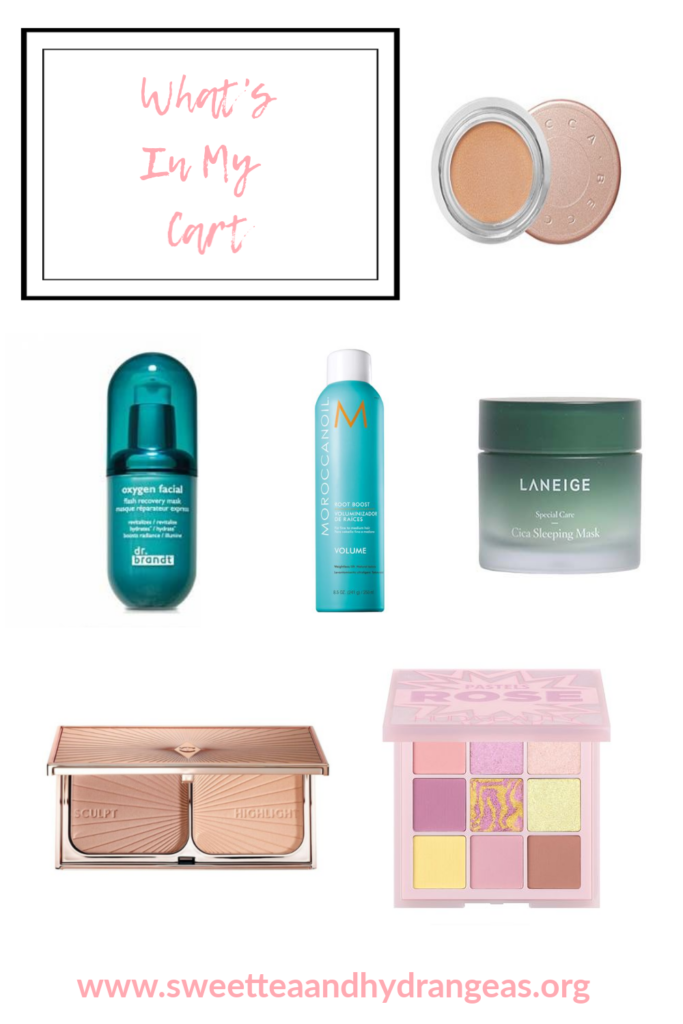 Moroccanoil Root Boost | My stylist used this on my hair (back before the virus went crazy) and I loved the volume it gave my hair. My hair is straight and flat, so I love a little extra volume.
Huda Beauty Pastel Obsession Eyeshadow Rose Obsession | Lately I've been trying to branch out to try more fun colorful eye looks. I saw a look someone had done on Instagram with this palette and fell in love. I can't wait to give it a try.
Dr. Brandt Oxygen Facial Flash Recovery | I can't remember who recommended this on Instagram but they said it is like a hydrafacial but at home. I've had two hydrafacials before and loved them. So I am curious to see how well this works.
Becca Cosmetics Under Eye Brightening Corrector | This is a cult classic around the blogger world. I love having brighter undereyes, expecially on those days were I look like a zombie. I'm hoping it lives up to the hype.
Charlotte Tilbury Filmstar Bronze & Glow Contour | If you can't tell I love CT products and this was highly recommended. I love a good highlight and contour palette.
Laneige Hypoallergenic Cica Sleeping Mask | I love their regular sleeping mask because it leaves my skin hydrated and soft. This one is supposed to help reduce redness, which I hope will help with my rosacea.
I hope you enjoyed this roundup of all my Sephora Sale picks! Will you be shopping it? What are some products you recommend?